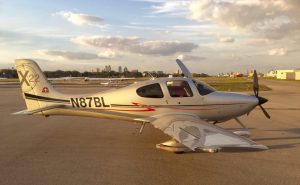 We have a full line of rental aircraft, including Cessna 172SP Skyhawks and a Cessna 162 SkyCatcher Light Sport Aircraft (LSA); a short checkout flight will get you on your way with ultra-modern avionics. For "real" cross country travel, try our glass cockpit Cessna 182 or our Cirrus SR-22 GTS. For a whole lot of fun in a safe, modern design, try our new Icon A5. We offer the convenience of 24-hour on-line scheduling with Flight Schedule Pro. Login to reserve the aircraft you want, and we'll have it ready to fly when you arrive at TPF. If it's more convenient or you need help, simply call the desk.
FLIGHT INSTRUCTION
Atlas Aviation is also a Cessna Pilot Center, offering individual instruction tailored to meet your needs and featuring the state-of-the-art, internet-based Cessna training program. We also teach convenient ground schools to help pilots learn the academic side of flying. We have a full-time, professional staff that's ready when you are!
DISCOVERY FLIGHT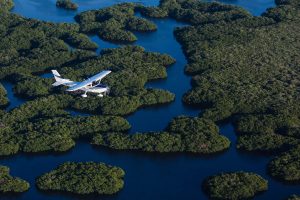 Approximately 1-Hour First Lesson with 30-minutes Flight Time – Cost Just $199 (add $25 for additional person as observer). Have you ever wondered what it would be like to fly an airplane, either for business or pleasure? Now, here is your chance to find out, and at a low price! Purchase a Discovery Flight and you will be at the controls of an airplane and actually flying! Your lesson is a 1-hour long appointment, spent approximately half on the ground and half in the air. You'll learn how safe, fun and practical flying can be.
SCENIC AERIAL TOURS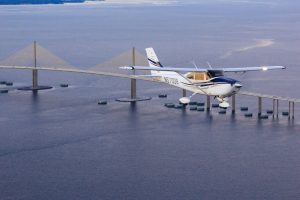 Come and view beautiful Tampa Bay from the sky! This magnificent flight will take you and a friend from scenic Peter O. Knight Airport (located on the end of Davis Island), south past Apollo Beach, around our majestic Sunshine Skyway, along the gorgeous beaches and islands from St. Petersburg to Honeymoon Island State Park, then right over the top of Tampa International Airport!
Our Scenic Flight is approximately 1-hour in duration, and includes room for two people. Along the way, you'll also spot Raymond James Stadium, Tropicana Field, downtown Tampa, Bayshore Boulevard, Channelside and even dolphins and sharks (most flights).
Flying has so many benefits…from exploring new destinations (Key West in two hours!), challenging your skills, a new hobby, a great business tool, connecting with family and friends…the possibilities are as endless as the sky. They say a mile of road will take you a mile, but a mile of runway can take you anywhere! Let us share our passion with you.